Silt Fence & Erosion Control Products
Prefabricated Wire Back Silt Fence
is available in several wire sizes and fabric configurations to meet most state DOT requirements. Popular roll Sizes: 3'X100′, 3'X110′ & 3'X330′.
Please call for more details –
Custom Printing available on all Silt Fence!
24″ X  100′ Welded wire 12.5 awg 2×4
24″ X 100′  Welded wire 14.5 awg 2×4
36″ X 100′  Welded wire 14.5 awg 4×4
32″ X 330′ 12.5 DOT Field Wire
32″ X 330′ 14.5 Field Wire
39″ X 330′ 14.5 DOT Field Wire
Several other styles and sizes available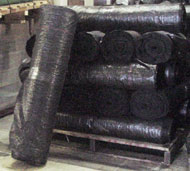 Silt Fence "Fabric Only Rolls" for Silt Fence Plows
We work with McCormick (The Silt Fence Plow), Tommy, Burchland, Bobcat, Ditch Witch Plows & All other brands.
3′ X 1,500′  50 gram
3′ X 1,500′  70 gram 
3′ X 1,500′  100 gram
330′, 1000′ & Master Rolls available. Rolls are put up using a 3″ core.
Custom Printing available on all Silt Fence!
Most states' DOT Silt Fence Available
CMC Standard Studded Silt Fence T-Post
4′ & 5′ .85,  .95, 1.25 & 1.33lbs/ft
T-Post available up to 9′ in all weights – both
painted and raw – with & without kick plate.
We offer Ag, Vinyard & Grape T-Post.
ASK ABOUT TRUCKLOAD DISCOUNTS & NATIONWIDE SHIPPING
3′ X 100′  50 gram
3′ X 100′  70 gram
3′ X 100′  100 gram
Available with 11 stake (10′ on center),
13 stake (8′ o.c.) & 17 stake (6′ o.c.) w/ 1 1/4″ Nominal Hardword stake pre-attached. Larger 1.5″ Full Stakes available. DOT Silt Fence available for Most States. Have your Company Name, Logo & Phone # Printed on all Silt Fence. This is a very cost effective form of advertising!
We have hundreds of master rolls in stock in a variety of gram weights. From one roll to a truckload, L & M Supply is the place to turn to for affordable, quality Silt Fence. Master Rolls:
Custom Printing available on all Silt Fence!
L & M Supply maintains on of the largest inventories of Burlap in the US! Available in 2000 lyd Bales or 100 lyd rolls.
Sizes: 36″, 40″, 45″, 48″, 54″, 60″ & 72″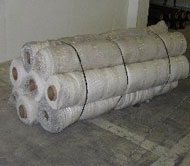 12.5′ X 100 lyd Roll
Other sizes available
L & M Supply is one of the largest suppliers of Emergency Sandbags in the USA with Millions of Sandbags in Stock and ready to ship!
14.5″ X 26″ Poly High UV Sandbags with ties
18″ X 30″ Poly Sandbags
20″ X 31″ Poly Sandbags
23″ X 40″ Poly Sandbags
Available in Orange or White.
Jute is made from natural fibers of a bamboo-like plant and is rated as one of the most dependable and proven erosion products available. Jute stabilizes the soil and promotes the establishment of permanent vegetation on all types of slopes (road slopes, drainage slopes, landfill slopes, and backyard slopes, etc.) Jute conforms to slope contours and surface irregularities. Jute stabilizes surface soil on slopes with thousands of tiny check dams per square yard. Rolls are 4′ X 225′ and palletized 12 to a pallet – 48 rolls per tier and 480 rolls per truckload in a standard 53′ Van. Specifications Sheet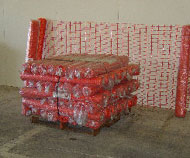 4′ X 100′ Orange Great Barrier Brand
An industry standard for contactors for decades. Affordable and Durable. Use 5′ Metal T-Post or 5′ Hard Wood Stakes to install.
Also known as Tree Save, our Orange Woven Barrier Fence is available in 4′ X 100′, 4′ X 300′ Master Rolls & 4′ X 100′ with preattached 5′ Hard wood stakes for EZ installation. An Affordable and Durable Alternative to Plastic.
Heavy Duty Orange Diamond Safety Fence
Roll Size: 4' x 100'
Color: Orange
Weight: 20 lbs. Per roll
Pallet: 16 rolls per pallet
Mesh: Heavy Duty Diamond
Mesh Opening: 1-3/4
"Chain Link Style"
1,000 Stakes per Pallet 1 1/4″X1 1/4″X 48″
Used for Silt Fence, Grade Stakes or Wattles.
All Stakes are milled onsite and cut from Hard Wood Red or White Oak! Stakes feature Pencil Points for EZ Installation.  Custom Sizes Available. Can be put up 25 per bundle.
L & M is one of the leading Manufacturers of Sod Staples in the USA.
Hold down sod
Pin erosion control fabrics and weed barriers
Secure outdoor cords, wires, or decorations
Install above-ground wiring4″ X 1″ X 4″     (1,000 per Box)6″ X 1″ X 6″     (1,000 per Box)8″ X 1″ X 8″     (500 per Box)12″ X 1″ X 12″  (500 per Box)54 boxes per skidPrivate Labeling Available
Bags – also known as Sediment Bags or Dirt Bags
Standard Sizes:
6′ X 6′ – 10′ X 15′ – 15′ X 15′
All bags are made from heavy 8oz Non Woven Geotextile Fabric. The stitching is a Durable Double Thread Chain Stitch.
Custom Sizes are available.
Ask about quantity discounts!
Hog Ring Pliers
Hog Ring Pliers are used to attach Silt Fence Fabric to the Field or Welded Wire when Wire Back Silt Fence is required. Spring-Loaded
Pliers allows for faster application of the Hog Rings therefore using less man hours.
C-Rings are used with Spring Loaded Hog Ring Pliers. They are inserted just like a common desk stapler. There are 10 boxes of 2500ea. per case. C-Rings are sold by the case only.  Manual Pliers and Rings are also available.
L & M proudly services the follow States, Countries, Provinces & Territories:
ALABAMA AL ALASKA AK ARIZONA AZ ARKANSAS AR CALIFORNIA CA COLORADO CO CONNECTICUT CT DELAWARE DE DISTRICT OF COLUMBIA DC FLORIDA FL GEORGIA GA HAWAII HI IDAHO ID ILLINOIS IL INDIANA IN IOWA IA KANSAS KS KENTUCKY KY LOUISIANA LA MAINE ME MARYLAND MD MASSACHUSETTS MA MICHIGAN MI MINNESOTA MN MISSISSIPPI MS MISSOURI MO MONTANA MT NEBRASKA NB NEVADA NV NEW HAMPSHIRE NH NEW JERSEY NJ NEW MEXICO NM NEW YORK NY NORTH CAROLINA NC NORTH DAKOTA ND OHIO OH OKLAHOMA OK OREGON OR PENNSYLVANIA PA PUERTO RICO PR SOUTH CAROLINA SC RHODE ISLAND RI SOUTH DAKOTA SD TENNESSEE TN TEXAS TX UTAH UT VERMONT VT US & BRITISH VIRGIN ISLANDS VI VIRGINIA VA WASHINGTON WA WEST VIRGINIA WA WISCONSIN WI WYOMING WY MEXICO MX  CENTRAL AND SOUTH AMERICA CANADA CA Alberta British Columbia Manitoba New Brunswick Newfoundland and Labrador Northwest Territories Nova Scotia Nunavut Ontario Prince Edward Island Quebec Saskatchewan Yukon
Including these major US markets:
Albuquerque Atlanta Austin Baltimore Baton Rouge Birmingham Boston Bronx Brooklyn Charlotte Chicago Cincinnati Cleveland Columbus Dallas Denver Detroit Fort Lauderdale Honolulu Houston Indianapolis Jacksonville Kansas City Kansas City Las Vegas Los Angeles Louisville Memphis Miami Milwaukee Minneapolis New York Oklahoma City Omaha Orlando Philadelphia Phoenix Pittsburgh Portland Saint Louis San Antonio San Diego San Francisco San Jose Seattle Tampa Tucson Washington West Palm Beach